"The world always seems brighter when you've just made something that wasn't there before"
Neil Gaiman
Arts and Crafts
The talented Andrea Salisbury is our crafts and art creative force. Not only a professional artist, she has also been certified in art for the aging brain and knows how to keep our folks' creative juices flowing.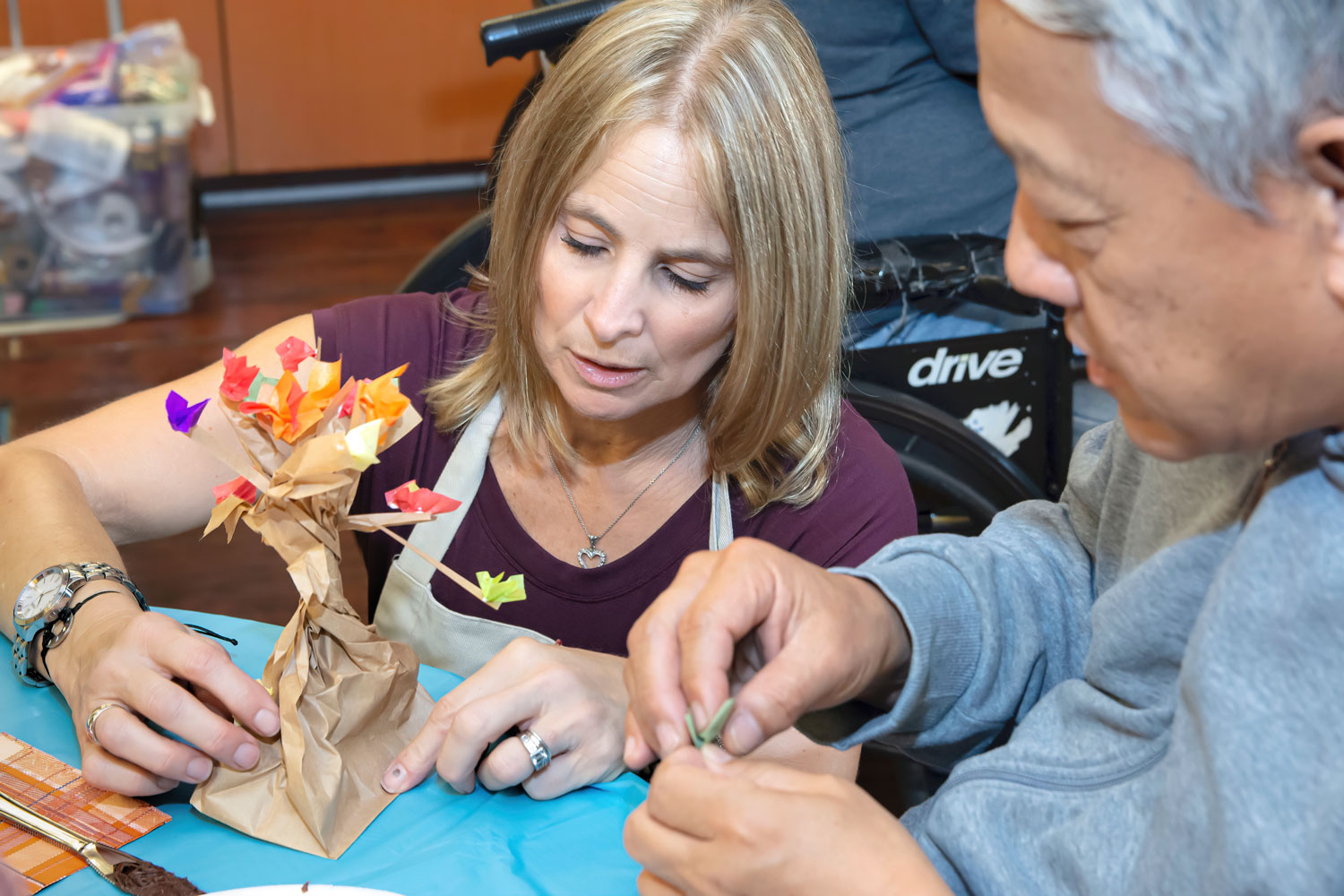 For the past two years we have been bringing arts and crafts activities twice a month to each facility. Our projects are designed so that folks with a wide range of disabilities can participate. We pride ourselves on the variety of projects that we make available.
Due to the COVID-19 pandemic, we have now provide individual creative boxes to each of our residents. These boxes contain a variety of supplies and art projects that can be completed with minimal instruction. We do supply a book of instructions on how to complete each project.
We are currently looking for art leaders and assistants who love seniors and would like to participate and supply project ideas for our programs. If you're interested, please contact carol@compassionateartists.org
Research
The Research
 Here are some of the best mental health benefits of art.

Art Relieves Stress
Drawing, sculpting, painting, etc. are great ways to lower your overall stress levels and make you feel much better mentally. Essentially, it provides a distraction, giving your brain a much-needed break from all of your usual ways of thinking.
Art Helps To Encourage Creative Thinking
As opposed to math, art doesn't require a correct answer. Instead, you can come up with your own solutions and further stimulate your brain. This is especially true because you will use both hemispheres of your brain.
Art Encourages Brain Activity
Whenever you engage in any kind of a new activity, your brain begins to create connections among all of your different brain cells. In terms of creating art, this helps to stimulate all sorts of connections between various parts of your brain.
Art Improves the Overall Quality of Life in Dementia Patients
Art has been shown to enhance factors such as memory and cognitive abilities, especially in those who suffer from serious mental disorders such as dementia. While different types of drug treatments generally don't work very well in these individuals, creating art provides a great sense of pleasure for them. This is because it has been shown to greatly improve their self-esteem and social behavior, as well as reduce various psychiatric symptoms associated with their disorder.
Artfromthestreets.com