"A successful team beats with one heart"
Unknown
MEET THE TEAM
Our amazing team is made up of professional artists who share a passion for the importance of the arts in our lives and bring that passion to their work with our seniors. Their innovation and energy make each activity a special event.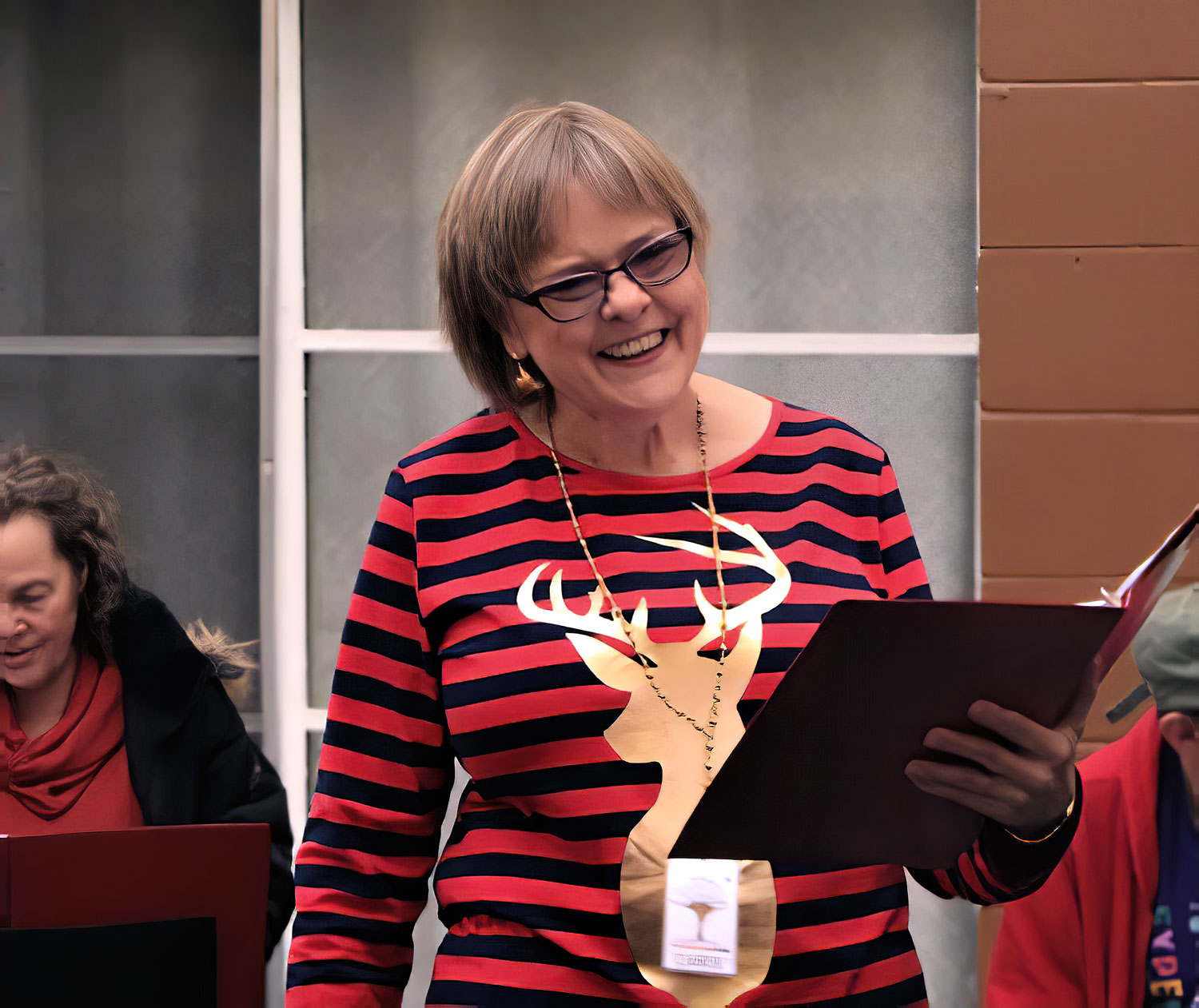 Carol Gibson
Executive Director/Founder
As Compassionate Artists' Founder and Executive Director, Carol Gibson is the driving force behind its focus on bringing the arts to seniors who no longer have access. Her passion for seniors was ignited by helping with end-of-life care for several family members. Seeing a lifelong arts supporter dying in a facility with no art led her to commit the rest of her professional career to addressing the loss of this basic human need.
As a child, Ms. Gibson enjoyed singing and playing the flute. She studied music at California State University, Fullerton, but eventually made the switch to theater studies, becoming a professional stage manager with an emphasis in special events. She spent several years at Universal Studios, Hollywood, where she was co-founder of their Special Events Department. She returned to music as the Executive Director of the professional vocal group Zephyr, a position she held for 13 years. Over her career, she has produced and/or managed many hundreds of theatrical and musical events throughout Southern California. She is a published composer in partnership with her husband, composer Paul Gibson.
Ms. Gibson has maintained a lifetime commitment to community service and has served on the boards of several nonprofit organizations. She is the recipient of Outstanding Community Service awards from the United States Congress, the California State Senate, the California State Assembly, the County of Los Angeles, and the City of Downey. She loves her job!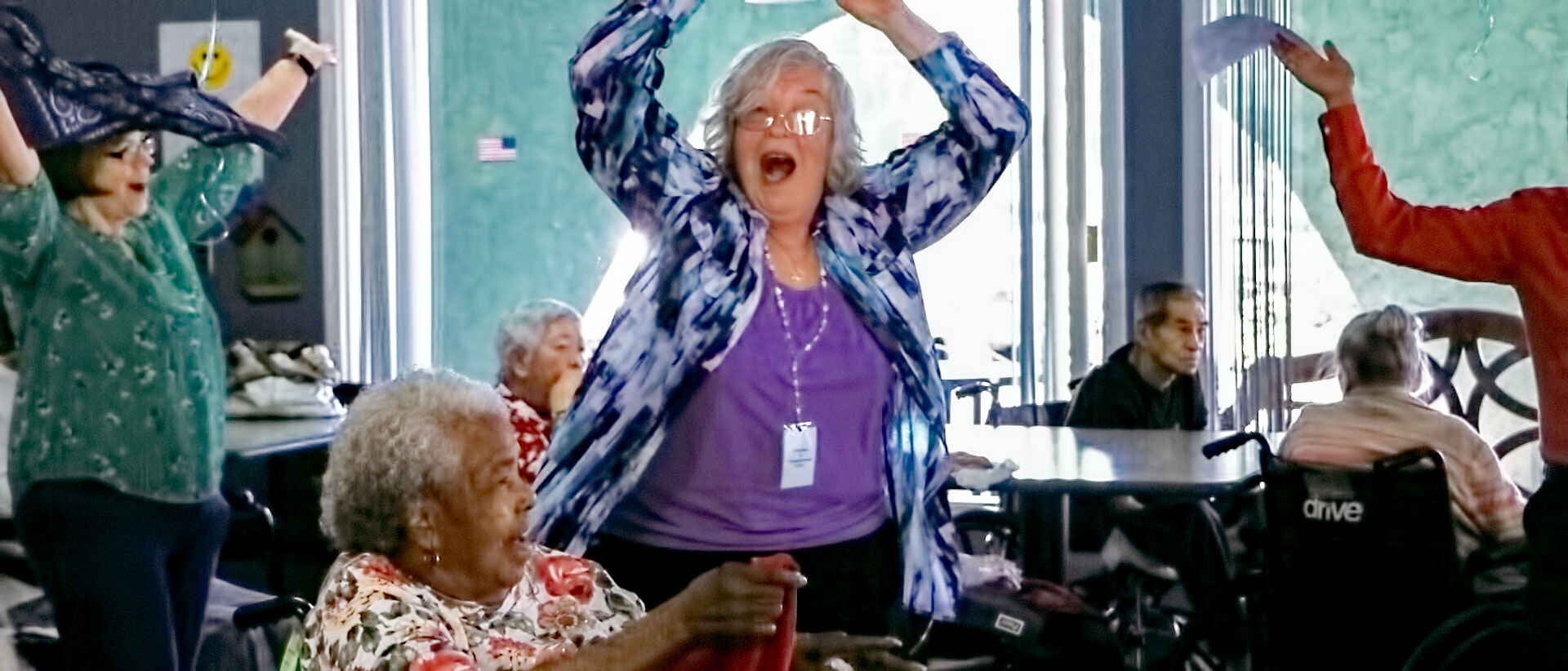 Dr. Sally Etcheto
Board President
Sally recently retired as the chair of the Music Department at California State University Dominguez Hills, where she has been a member of the faculty since January of 1973. She received her undergraduate education at Southern Methodist University in Dallas, Texas, and in 1971 completed her MM in vocal performance at USC. She received her Doctor of Musical Arts in vocal performance from USC in 1982. Dr. Etcheto's professional credits include past appearances with the Dallas Civic Opera Chorus, Dallas Summer Musicals, Los Angeles Opera Chorus, and the Los Angeles Master Chorale. She is a member of Actor's Equity, and the American Guild of Musical Artists, having served on the National Board of AGMA for many years. Sally has also been a soloist and member of the professional quartet and High Holy Day Choir at Leo Baeck Temple since 1975. Professional solo engagements have included recital appearances in California, the Mid-West, and New York City with repertoire ranging from the traditional to the contemporary. As one of the founding members of the 12 voice conductorless group Zephyr: Voices Unbound, she helped produce and performed on two CD's and a "cutting edge" 5.1 surround sound DVD recording. Zephyr explored the joys and challenges of sustaining a true "artist's co-operative".
"Dr. Sally", as her students have dubbed her, also boasts a widely varied teaching career, from the private studio to the pedagogy classroom and from the conductor's podium to the research laboratory. She has served as the Faculty Advisor for the Gamma Sigma Chapter of Mu Phi Epsilon, an International Music Honorary Fraternity, since helping to found it. Until her recent retirement, her days were happily filled with teaching everything from basic sight-singing to operatic arias.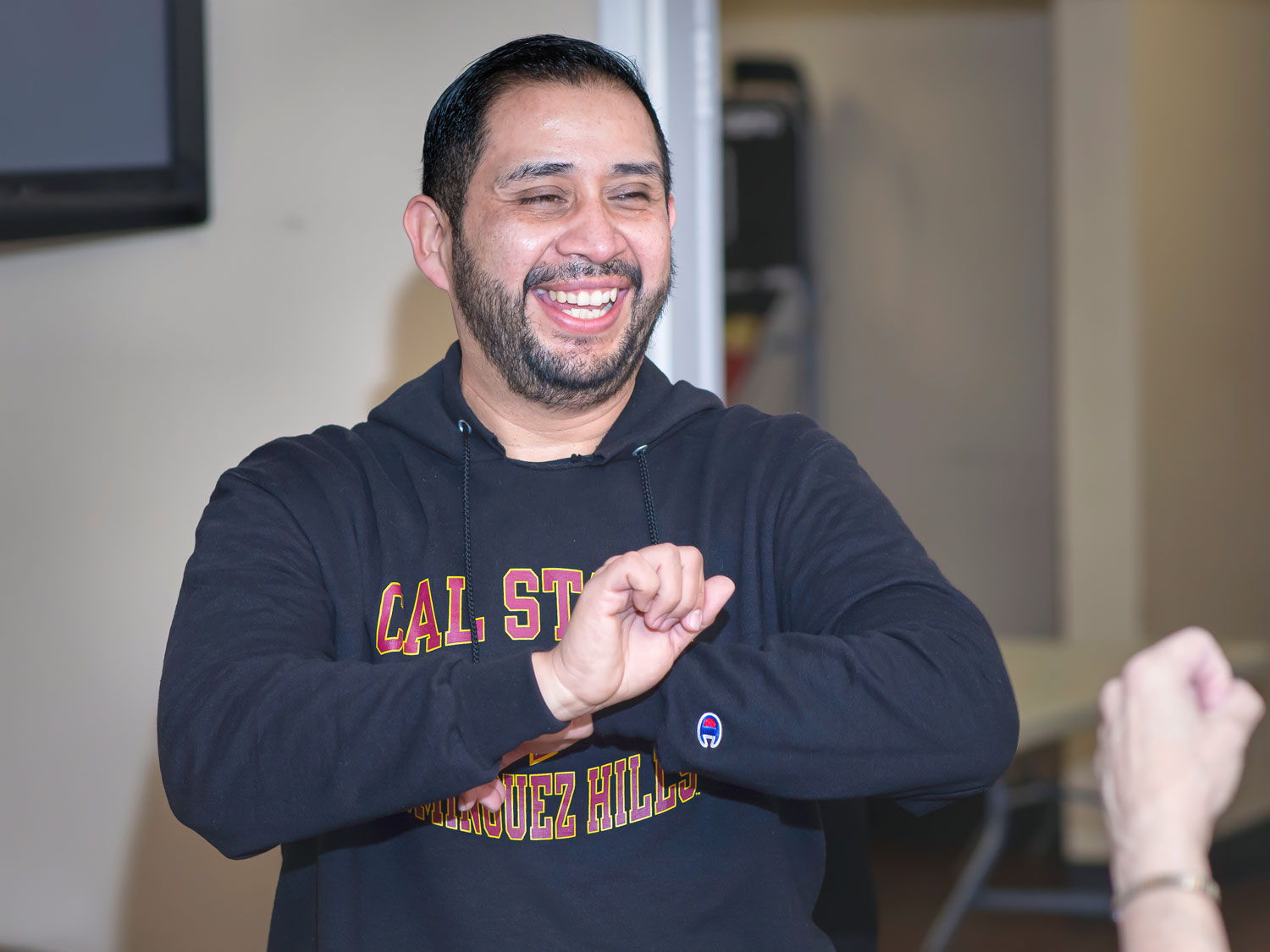 Marco A Carreon
Dance Activities and Performance Coordinator
Lecturer/MOSAIC Artistic Director at California State University Dominguez Hills, received his AA for Visual & Performing Arts from San Diego City College, his BA in Theater Arts: Dance Option from CSUDH, his Moderate/Severe Special Education credential from CSUDH and MA in Special Education from CSUDH.
Marco has danced with such companies as the José Costas Dance Company, Louise Reichlin and Dancers, and Ressl Dance, as well as performed in various musicals, such as Man of La Mancha, Westside Story, and Tommy. Marco serves as a board member for Freshwater Dance Collective, as well as choreographs and performs for Dances at the Lake Walk and Dances at the Lakes every year in Minnesota. In 2009, he directed and produced a site-specific dance concert, Campus Dances, utilizing outdoor areas on the University Campus. Marco's dance Reactive-Attachment was performed and adjudicated in 2015 for the American College Dance Association Conference at CSU Long Beach. In 2016, he choreographed the musical, Zombie in Love, for the Laguna Playhouse.
Marco recently choreographed for the CSUDH production of The Promise. At CSUDH he teaches Dance for Children, Dance Perceptions, Speech, choreography, and Dance Production for the Department of Theatre and Dance and Social Folk Dance for the Department of Kinesiology. He is currently choreographing the musical Zombie in Love for the Laguna Playhouse. Marco is Also the Artistic Director for the CSUDH resident dance company MOSAIC.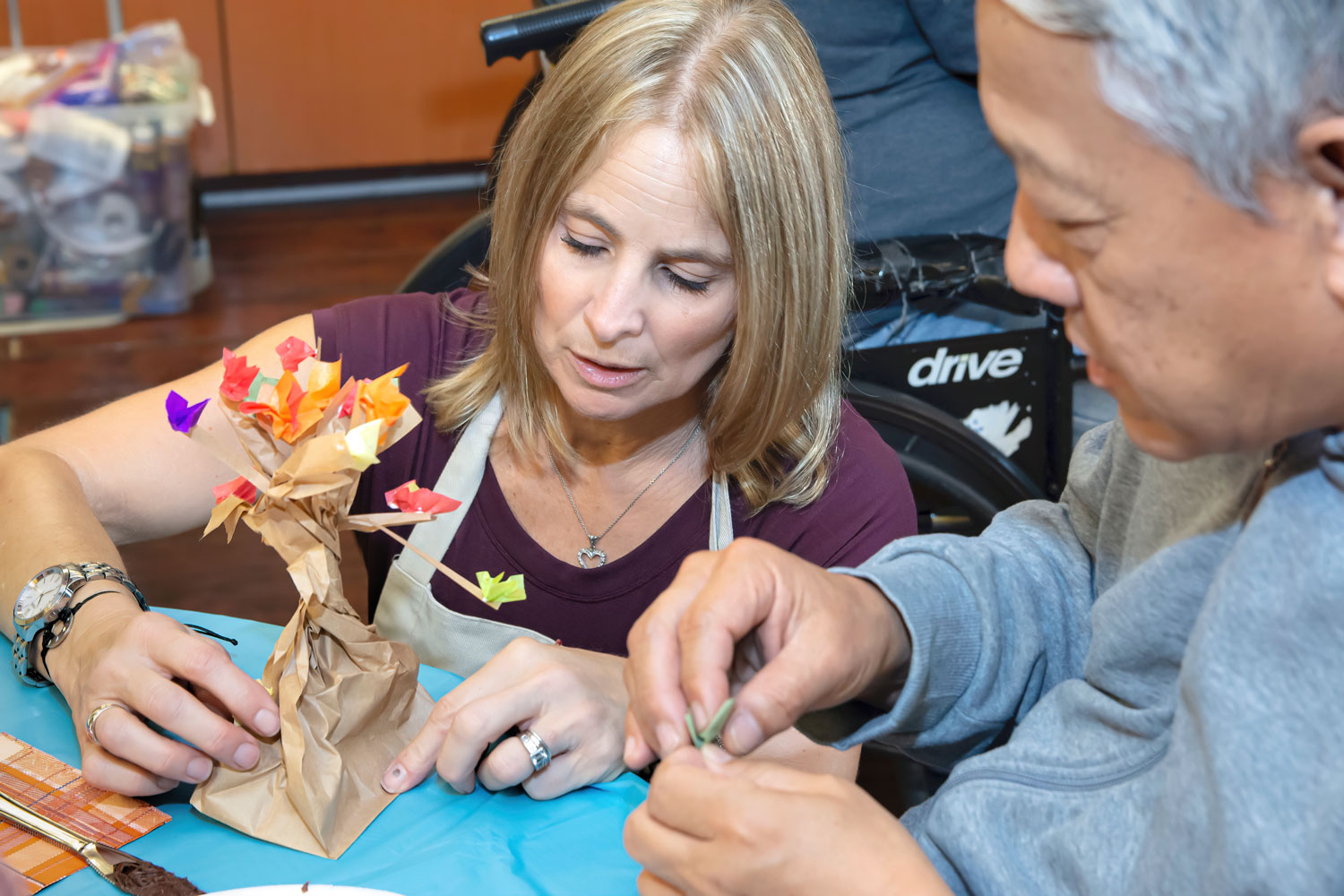 Andrea Salisbury
Arts & Craft Coordinator
Born in Santa Monica California and now a Long Beach resident Andrea Salisbury received multiple prizes for her innate talent as early as the age of 10. She has always believed, "You can create anything if it comes from the heart." She earned her Bachelor of Arts degree from California Polytechnic University, Pomona.
Andrea has participated in several art exhibitions throughout the Los Angeles area. Today, her passion is supporting foundations that foster the arts; for the last eight years, she has been a contributing artist for the Chuck Jones Center for Creativity, a 501(c)(3) organization located in Orange County, California.
Andrea is a certified art facilitator with the Alzheimer's organization in its "Memories in the Making" program which offers creative artistic expression for individuals with mild cognitive impairment. She has earned certifications in Gerontology from USC's Leonard Davis School of Gerontology.
Andrea's passion for the arts and her commitment to improving the lives of others through creativity is the legacy she hopes to leave in honor of her mother who passed from Alzheimer's in 2013.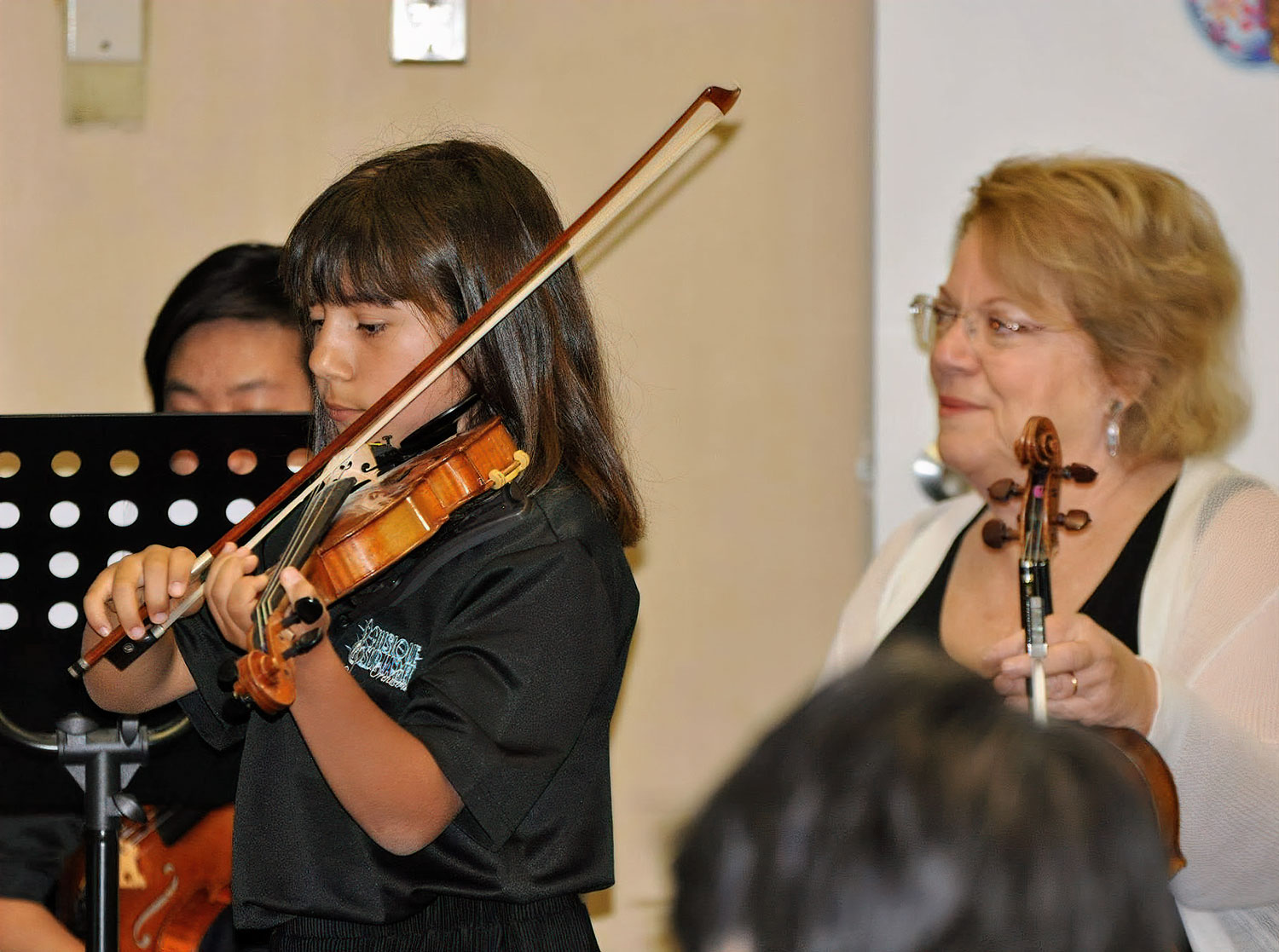 Maestro Marcy Sudock
Board Member-at-Large
Maestro Marcy A. Sudock is the musical director and conductor of Musique Sur La Mer Orchestras, including the Musique Sur La Mer Chamber Orchestra, Chamber Ensembles, MSLM Jazz Orchestra, Youth Symphony Orchestra, and Honors Chamber Orchestra, and Le Petite Musique Orchestre based in Los Alamitos, California, USA. Maestro Sudock graduated from California State University, Long Beach, Music Performance. She is an accomplished violinist, soloist, chamber, studio and orchestral musician, and violin/viola instructor. As a violinist, She has performed with such diverse, notable artists as Luciano Pavarotti, Andrea Bocelli, Lionel Richie, and Freddie Hubbard. From grand concert halls to Los Angeles recording studios to the Las Vegas stage, Maestro Sudock is a highly regarded and sought after violinist.
 As a conductor, Maestro Sudock, has performed to sold-out audiences in Austria: Musikverien-Saal (Vienna), the Mozarteum in Salzburg, the Salzburg Cathedral, University Festival Hall, Mirabel Gardens, the Czech Republic, Royal Cathedral of Monaco, Cannes and Nice, France and the Teatro Nacional (Costa Rica). Maestro Sudock is a favorite in Australia's Sydney Opera House and has performed numerous concerts and workshops throughout Australia and New Zealand, including the Christchurch Cathedral.
 Maestro Sudock conducted the Musique Sur La Mer Chamber Orchestra (professional) in the Royal College of Music's Amaryllis-Fleming Concert Hall for the American tribute concert commemorating the wedding of HRH Prince William and Catherine Middleton, the Duke and Duchess of Cambridge on May 1, 2011, and the tribute concert in honor of HM Queen Elizabeth II Diamond Jubilee on June 2, 2012.