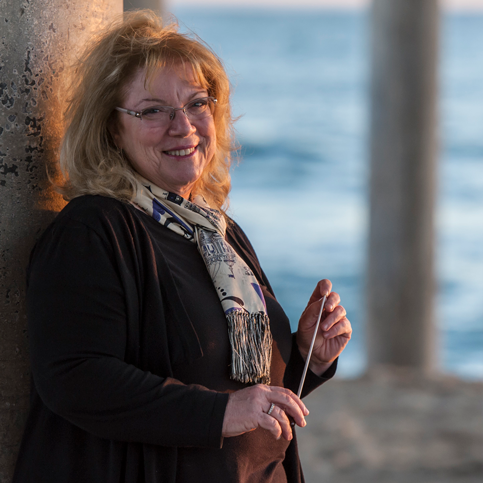 Maestro Marcy A. Sudock is the musical director and conductor of Musique Sur La Mer Orchestras, including the Musique Sur La Mer Chamber Orchestra, Chamber Ensembles, MSLM Jazz Orchestra, Youth Symphony Orchestra and Honors Chamber Orchestra, and Le Petite Musique Orchestre based in Los Alamitos, California, USA. Maestro Sudock graduated from California State University, Long Beach, Music Performance. She is an accomplished violinist, soloist, chamber, studio and orchestral musician and violin/viola instructor. As a violinist, She has performed with such diverse, notable artists as: Luciano Pavarotti, Andrea Bocelli, Lionel Richie, and Freddie Hubbard. From grand concert halls to Los Angeles recording studios to the Las Vegas stage, Maestro Sudock is a highly regarded and sought out violinist.
As a conductor, Maestro Sudock, has performed to sold out audiences in Austria: Musikverien-Saal (Vienna), the Mozarteum in Salzburg, the Salzburg Cathedral, University Festival Hall, Mirabel Gardens, the Czech Republic, Royal Cathedral of Monaco, Cannes and Nice, France and the Teatro Nacional (Costa Rica). Maestro Sudock is a favorite in Australia's Sydney Opera House and has performed numerous concerts and workshops throughout Australia and New Zealand, including the Christchurch Cathedral.
Maestro Sudock conducted the Musique Sur La Mer Chamber Orchestra (professional) in the Royal College of Music's Amaryllis-Fleming Concert Hall for the American tribute concert commemorating the wedding of HRH Prince William and Catherine Middleton, the Duke and Duchess of Cambridge on May 1, 2011 and the tribute concert in honor of HM Queen Elizabeth II Diamond Jubilee on June 2, 2012.
Maestro Sudock and the Musique Sur La Mer Orchestras have received numerous commendations and letters of recognition within the United States and internationally for their musical contributions, charitable commitments and for furthering music education for young musician